Inspiring Work of Broadband Advocates and Researchers at the Michigan Broadband Summit
The first annual Michigan Broadband Summit was held on Sept. 24, 2019, sponsored by the MERIT research and education network, and it was my pleasure to attend on behalf of M-Lab.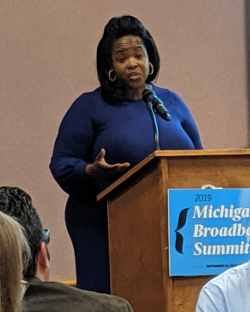 The gathering was an opportunity to learn more about the amazing work that MERIT, industry, municipalities, cooperatives, school districts and others are doing to improve internet access and service quality in Michigan. I came away inspired by every conversation and presentation, with the keynote from Francella Ochillo from Next Century Cities, and the MERIT team's presentation of the Moonshot framework being particularly moving.